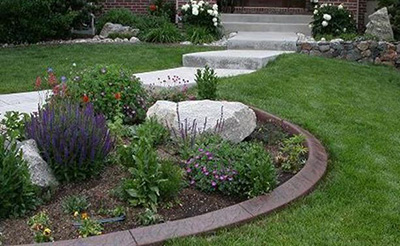 A
fter a 25 year career in the military, a few years of entrepreneurship and earning a Master's Degree in Business at TCU, we embraced an opportunity to turn a passion for landscaping into our family business. At Curb YOUR Nature, we have a desire to create beautiful, environmentally safe, reasonably priced, low maintenance seamless landscape curbing and edging for both home and businesses alike.
Discovering, that in the extreme summer heat of Texas, the products available to contain our landscape beds, do not work! We have experimented with most materials available from metal, to landscape bricks, railroad ties, landscape timbers, and even natural cut stone… all have failed us. The metal edging typically rises up or rusts; landscape bricks have or become uneven, all wood products rot, and the mortar, joining cut stone, cracks, even with every precaution taken to avoid the problem.
We are overjoyed to be able to share with you this process, of continuous seamless concrete landscape curbing, which began in Australia almost 40 years ago. It had been popular in Europe, before coming to America in the early 1980's. Since then, Florida, Arizona, California and Colorado have embraced and enjoyed the beauty and benefits of seamless concrete curbing. We are pleased to announce that Curb YOUR Nature offers the most unique, strongest, and most variety in appearance, concrete curb in the area.
Though we specialize in concrete landscape curbing and edging, we also offer other services such as: xeriscaping (using low water-use plants, extended beds, and other materials to maximize beauty and minimize water-siphoning grass), landscape bed design and implementation, mulch, irrigation design, repair and tune-up and lawn maintenance. As we continue to listen to our customer's requests in regards to our services, we strive to fill those needs.
Our dedication to serving our customers with kindness and respect, our attention to the "green" movement, along with our high quality products, will create an amazing working relationship between us, as well as a beautiful landscape for YOUR yard or business is what Curb YOUR Nature is all about!